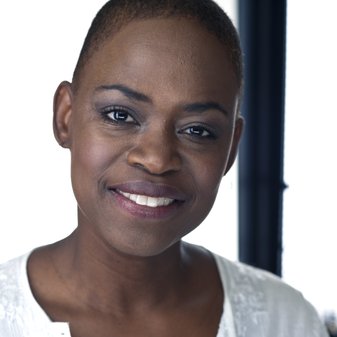 An award-winning actress, writer, director, producer, choreographer, motivational speaker, and teacher from Washington, DC. Her television appearances include a YAHOO! Commercial, the ABC's 10-8, the Showtime Series SOUL FOOD, GIRLFRIENDS (UPN), Lifetime's STRONG MEDICINE, and a T.V. pilot, SOLE. She has also starred in the movie COMPENSATION, directed by Zeinabu Davis. It has received rave reviews at film festivals worldwide, including Sundance, Burkina Faso's FESPACO, and the Toronto International Film Festival. The film ran on BET-Black Starz and Sundance cable channels as well. She also had a cameo appearance in Hilari Scarl's documentary about the Deaf Entertainers, SEE WHAT I'M SAYING. Michelle credits Jadolphus CW Fraser, an independent filmmaker, to introduce her to filmmaking and co-directed his feature debut, ALWAYS CHASING LOVE.
Michelle participated as one of 13 actors for NYC's 2008 ABC Diversity Talent Showcase. Her theatrical appearances include THE C.A. LYONS PROJECT at Alliance Theatre in Atlanta, GA; STORY THEATRE with Open Circle Theatre; BIG RIVER at the Mark Taper Forum in Los Angeles, CA, and Ford's Theatre in Washington, DC. She also performed in FOR COLORED GIRLS WHO HAVE CONSIDERED SUICIDE WHEN THE RAINBOW IS ENUF at the Henry Street Settlement Playhouse (New York City) and the Globe Playhouse (Los Angeles). Her FOR COLORED GIRLS ensemble in Los Angeles won the 2003 NAACP Theatre award for "Best Ensemble". Michelle was one of the first two Deaf African-American actresses to interpret for the Broadway play, HAVING OUR SAY by Emily Mann.
As a writer, she co-wrote plays such as THERE'S BUTTER, BUT NO BREAD, an adaption of WAITING FOR GODOT, and BLACK WOMEN STORIES: ONE DEAF EXPERIENCE for Onyx Theatre Company. She wrote her original one-woman show, REFLECTIONS OF A BLACK DEAF WOMAN, and received The Christopher Reeve Acting Scholarship in 2002 to produce it in Los Angeles, CA. Her one-woman show has continued to receive rave reviews at venues throughout the country, including Victory Theatre Center, National Black Theatre Festival, the Los Angeles' Women's Theater Festival, Ohio Wesleyan University, and the John F. Kennedy Center for the Performing Arts. In addition to this, Michelle has ongoing writing projects under her belt.
After Michelle received her Bachelor of Arts degree in Drama Studies from the State University of New York at Purchase, she founded Onyx Theatre Company in New York City, the first deaf theater company in the United States for people of color. Her work with Onyx for eleven years earned the Cultural Enrichment Award from Gallaudet University and the Distinguished Service Award from New York Deaf Theatre. Her other achievements include a featured article in the February 1998 issue of ESSENCE magazine, Program Coordinator for Deaf West Theatre's Professional Acting Summer School, Director of American Sign Language for Arena Stage, Broadway, and Centerstage, the Outstanding Achievement Recognition Resolution of 1996 from the Council of the District of Columbia, an Individual Achievement Award from the National Council on Communicative Disorders, and the Laurent Clerc Award from Gallaudet University for her social contributions to the Deaf community.
Michelle completed her Master's degree in Organizational Management, specializing in Organizational Leadership from Ashford University in 2015. Michelle's producing and directing credits include A RAISIN IN THE SUN, LOOK THROUGH MY EYES, SILENT SCREAM, Z: A CHRISTMAS STORY, WHAT IT'S LIKE? (One Man Show) and IN SIGHT AND SOUND: DE(A)F POETRY I, II, & III. Currently, she is the Artistic Director of Visionaries of the Creative Arts (VOCA) based in Washington, DC. www.visionariesofthecreativearts.org.
To view my acting /director resumes - please click the button below.